>

>

>

>

>

Fluke 435-II Three-Phase Power Quality and Energy Analyzer
Fluke 435-II Three-Phase Power Quality and Energy Analyzer
SKU:
6156.99
11499.99
$6,156.99 - $11,499.99
Unavailable
per item
Included:
1 - Power Adapter (BC430)
1 - International Plug Adapter Set
1 - Li-ion Battery (BP290)
1 - Test Lead and Alligator Clip Set (TL430)
1 - Color Coding Clips and Regional Decals (WC100)
4 - 24 in. Flexible Current Clamps (i430flex-TF)
1 - 8 GB SD card
1 - A-B Mini USB Cable
1 - Soft Carrying Case (C1740)
1 - User Manual and Power Log Software (CD)
Fluke 435-II Three-Phase Power Quality and Energy Analyzer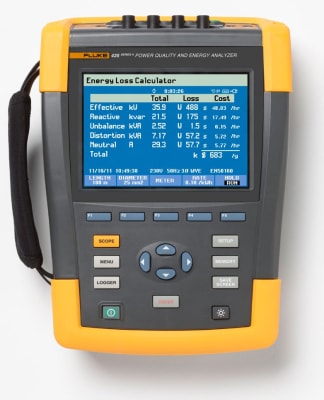 Product Features:
Quickly see how much energy is being wasted, in terms of real dollars
Easily see how motor startups are affecting motor drive performance
Get at-a-glance power quality health data in real-time to make better maintenance decisions
Capture every measurement automatically without any set-up
Measure all three phases and neutral with included flexible current probes
Safety rating: 600V CAT IV/1000V CAT III rated for use at service entrances
Fluke Connect compatible
Fluke Connect Mobile App
Auto Record measurements: Take measurements automatically and instantly save them to your phone; wirelessly save measurements to Fluke Cloud and add text or audio annotations
Trend It graphs: Trend measurements from a single session in a time series graph
Share Live video call: View live tool measurements, video and audio to collaborate in real time with your entire team, without leaving the field
Fluke Cloud storage: Securely store up to 5 GB of data securely, per user
Reports: Create reports with accurate and traceable maintenance data

The Fluke 435II Three-Phase Power Quality and Energy Analyzer with Fluke Connect Compatibility and iFlex Probes as is like a power quality insurance policy. No matter what goes wrong in your facility, you will always be prepared with the 435-II. Equipped with advanced power quality functions and energy monetization capabilities, there is no electrical issue that this model cannot handle. Its Power Wave function captures fast RMS values and allows you to see every waveform to determine how the voltage, current and frequency values are interacting. Its Power Inverter Efficiency function measures both AC power and DC power, in and out, to monitor the efficiency of your inverters. And the 435-II features an Energy Loss Calculator that will monetize energy waste due to poor power quality, helping you save on the energy bill.
Energy Loss Calculator
The 435-II provides advanced analysis of energy usage to help you to determine where energy losses occur and to visualize their impact on the energy bill.
The 435-II will measure these components simultaneously. The Energy Loss Calculator uses patented algorithms to calculate losses and to monetize them. The costs due to Effective W, Reactive var, Unbalance VA, Distortion VA and Neutral A are displayed per Hour. The total costs are displayed per year which gives you an impression of possible savings on a yearly basis. Four different rates can be set (price per kWh as a function of period of day). The length (meters or feet) and diameter (square millimeter or AWG/American Wire Gauge) of the cables between service entrance and the load can be set manually. In AUTO mode a loss of 3% due to wire resistance is assumed, which is normal for an average distribution system.
Advanced Power Quality Health
The MONITOR mode delivers a dashboard display of rms voltage, harmonics, flicker, interruptions, rapid voltage changes, swells, unbalance, frequency and mains signaling.
The dashboard is updated live, showing compliance of each parameter to EN50160 limits or your own limits. Color-coded bars clearly show which parameters are inside (pass) or outside (fail) limits. During a monitor session, you can easily drill down to more detail of any parameter to view and capture its trend for a report.
Power Inverter Efficiency
Power Inverter Efficiency measures the efficiency and amount of energy being delivered by inverters that convert single phase DC into a single or three phase AC. Solar generation systems usually include an inverter that takes the DC energy from the solar cells and converts it to useful AC power. Inverters can lose performance over time and need to be checked. By comparing the input power with the output power you can determine the system efficiency. The 435-II can measure the efficiency of such inverters by simultaneously measuring the dc and ac power of a system to determine how much power is lost in the conversion process.
Unified Power Measurement
Previously, only experts could calculate how much energy was wasted due to power quality issues; utilities could calculate the cost, but the required measurement process was beyond the reach of average electricians. With the patented Unified Power function of the 435-II, you can use one handheld tool to determine how much power is being wasted, and calculate exactly what the extra consumption costs. The Unified Power Measurement System measures Parameters of Classical Power (Steinmetz 1897) and IEEE 1459-2000; Detailed Loss Analysis; and Unbalance Analysis. These UPM calculations are used to quantify the fiscal cost of energy loss caused by power quality issues. Along with other facility-specific information, the calculations are computed by an Energy Loss Calculator that ultimately determines how much money a facility loses due to wasted energy.
UPM gives a more comprehensive breakdown of the energy consumed in a plant. In addition to measuring reactive power (caused by poor power factor), UPM also measures the energy waste caused by unbalance - the effect of unevenly loading each phase into three-phase systems. Unbalance can often be corrected by reconnecting loads on different phases to ensure the current drawn on each phase is as equal as possible. Unbalance can also be corrected by installing an unbalance reactance device (or filter), that will minimize the effects. Correcting unbalance should be basic to good housekeeping in the facility, as unbalance problems can cause motor failure or shorten equipment life expectancy. Unbalance also wastes energy.
UPM also provides details of the energy wasted in your facility due to the presence of harmonics. Harmonics may be present in your facility due to the loads you operate or may be caused by loads in adjacent facilities. The presence of harmonics in your facility can lead to overheating transformers and conductors; nuisance tripping of circuit breakers; and early failures of electrical equipment. Quantifying the cost of wasted energy due to the presence of harmonics simplifies the return-on-investment calculations needed to justify purchasing harmonic filters. By installing a harmonic filter the ill effects of harmonics can be reduced and energy waste eliminated, resulting in lower operational costs and more reliable operation.
Auto Trend
With a unique Auto Trend feature you can get fast insight into changes over time. Every displayed reading is automatically and continuously recorded without setting up threshold levels or manually starting the process. You can quickly view trends in voltage, current, frequency, power, harmonics or flicker on all three phases plus neutral.
Power Wave Data Capture
Power Wave records high resolution waveforms during a time span of several minutes. This allows you to monitor the influence of sudden load changes on voltage and current waveforms. For example, large voltage changes may indicate a weak power distribution System
In this measuring mode, the 435-II functions as an 8 channel scope recorder that records high resolution waveforms in a single shot acquisition. The function records half cycle rms values on 8 channels, frequency and instantaneous power (Vrms 1/2, Arms 1/2, W, Hz and scope waveforms for Voltage, Amps, Watts).
Fluke Connect: See it. Save it. Share it. All the facts, Right in the Field

Fluke Connect with Share Live video call lets you stay in contact with your entire team without leaving the field. The Fluke Connect mobile app is available for Android and iOS and works with over 20 different Fluke products. Make the best decisions faster than ever before by viewing all temperature, mechanical, electrical and vibration measurements for each equipment asset in one place. Get started saving time and money by increasing your productivity.
Model

Fluke 434-II

Fluke 435-II

Standard compliance

IEC 61000-4-30 Class S

IEC 61000-4-30 Class A

Volt Amp Hz

•

•

Dips and swells

•

•

Harmonics

•

•

Power and energy

•

•

Energy loss calculator

•

•

Unbalance

•

•

Monitor

•

•

Inrush

•

•

Event waveform capture

•

Flicker

•

Transients

•

Mains signaling

•

Power wave

•

Power inverter efficiency

•

•

400Hz

C1740 Soft Case

•

•

C437-II Hard Case with rollers

SD card (Max 32 GB)

8 GB

8 GB

All models include the following accessories TL430 test lead set, 4 x i430 thin flexi current probes, BP290 battery, BC430 power adapter with international power adapter set, USB cable A-B mini and Power Log CD.