>

>

>

>

300 Residential / Commercial Analyzer Kit
300 Residential / Commercial Analyzer Kit
SKU:
1695
3950
$1,695.00 - $3,950.00
Unavailable
per item
300 Pro Commercial / Industrial Combustion Analyzer Kit with printer (O2, CO, NO installed) 0564 300 96
300 Residential / Commercial Analyzer Kit (O2 and CO installed) 0564 300 82
300 Pro Commercial / Industrial Combustion Analyzer Kit with printer (O2, CO, NO installed) 0564 3004 92
300 Pro Commercial Analyzer Kit with printer (O2 and CO installed. Field upgradable for NO) 0564 3004 93
300 Residential / Commercial Analyzer Kit with printer (O2 and CO installed) 0564 300 83
Testo 300 - Commercial / Industrial Combustion Analyzer with Long Life Sensors, Printer and NOx (0564 3004 96)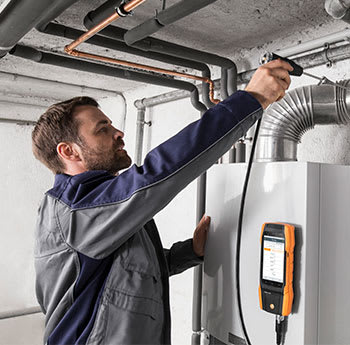 Intuitive and easy to use
Touch sensitive color screen
Large, 5" high definition display
Enables creation of documents while onsite
Ready to measure at the touch of a button

The Testo 300 LL COMM IND PRINT NOX (catalog number 0564 3004 96) is a commercial / industrial combustion analyzer with O2, CO and NO sensors. CO measurement is 0 - 8,000 ppm or with dilution to 30,000 ppm. This model features long life sensors and a sensor warranty of four years for O2 and CO, and two years for NO. This package includes a printer, as well as the slot for a third sensor with an NO sensor installed. This model is capable of NOx measurement.

In the smart world of today, a combustion analyzer needs to do much more than provide reliably accurate results. Key to technician efficiency is an instrument that performs before and after taking a measurement to ensure speed and accuracy through an intuitive interface designed to make work easier.

The user-friendly and highly efficient testo 300 was developed with this objective in mind. It is not just decades of experience in measuring technology. With smart-touch operation, robust construction and e-mailing of reports, the testo 300 will quickly become your indispensable companion for all measuring tasks involving heating.




Operation via smart-touch


The smart-touch display responds immediately without any delay. That allows intuitive operation - just as easy as on your smartphone.



E-mailing of reports


The testo 300 enables the convenient creation of documentation directly on site, and the dictation function even saves you typing in the process. You can send reports to the office or customers straight away via Wi-Fi.



Keep an eye on all the measuring values


You can see all the system's parameters right away on the large 5" HD display.



Get the result faster


Clearly structured menus for all relevant measurements are already stored in the measuring instrument and guide you efficiently through the application.



Ready to use right away


No more waiting time. In standby mode, the testo 300 is ready to measure at the touch of a button.



Completely worry-free


The testo 300 has quality sensor technology, measures high CO values up to 30,000 ppm and comes standard with the longest warranty in the industry.
1 year of additional warranty!
Extended warranty includes instrument, sensors, & flue gas probe
Register at www.testo.com
Truly robust:


The construction.
Smart measuring technology is of little benefit if it can't keep going in tough day-to-day working conditions, because your measuring instrument is a partner that supports you every day in the efficient, problem-free performance of your tasks. This is precisely why the testo 300 has a particularly resilient and high-quality construction.

Protected display


Scratch-resistant, recessed and with a special replaceable protective film.
Secure mounting


4 strong magnets with rubber coating - particularly material friendly

Bolted housing


For that extra degree of stability when it really matters.

Robust sensors


Optional: extremely durable O2 sensor and automatic dilution up to 30,000 ppm CO.
Truly flexible:


Instrument configuration and probe system.
A combustion analyzer

perfectly tailored to your needs
| | |
| --- | --- |
| The testo 300 doesn't just give you smart operation - the configuration also has that certain something. This means you can choose between a 2-year and 4-year warranty for the sensor technology. In addition to O2 and CO, you can also add a third sensor slot for the measurement of NOx as an option. Various kits with special instrument configurations and individual accessories are available, specifically tailored to the requirements of your individual application. | |
Versatile probes

- quickly changed
One handle for a variety of probes


A variety of probe shafts can easily be attached to the multi-functional handle. This ensures you enjoy a high level of flexibility in all applications. And you are ready to measure even more quickly, thanks to connection via a universal plug.

Proven probes



You can use the testo 320, testo 330 and testo 330-1/-2 LL probes with their practical multiple plug for the testo 300 as well.

New probes



New probes with anti-rotation USB C connection are available for temperature measurement, for example of flow and return temperatures, along with ambient CO measurement.
Testo 300 Model Comparisons
Testo offers several variations of its 300 series combustion analyzer. The 300 is available with NOx sensors, specialized long life sensors, a printer, as well as higher range CO detection. The following is an overview of each. For detailed information on part numbers and features, please see the Q&A section of this page.
testo 300

testo 300 Longlife

testo 300 Longlife
(30,000 ppm CO)

Fuels

Oil, gas, solid fuels

Oil, gas, solid fuels

Oil, gas, solid fuels

Sensor slots

O

2

, CO
O

2

, CO,
NO - can be retrofitted
O

2

, CO H

2

-compensated,
NO - can be retrofitted

Measuring ranges

CO: 0 to 4,000 ppm

CO: 0 to 4,000 ppm

CO H

2

-compensated:
0 to 30,000 ppm
(by fresh air dilution)

Longlife sensors with up to 6 years' service life

–

✔

✔

Flue gas loss measurement

✔

✔

✔

Draft measurement

✔

✔

✔

Differential / gas flow pressure measurement

✔

✔

✔

Error and sensor diagnosis

✔

✔

✔

Zeroing with probe in flue gas

–

–

✔

PDF reports

✔

✔

✔

Signature function

✔

✔

✔

Warranty (instrument, probe, O

2

and CO sensors)

2 years

4 years
(NO sensor 2 years)
4 years
(NO sensor 2 years)

Warranty with product registration

3 years

5 years

5 years

Display

5" HD touch display

5" HD touch display
​(1280 x 720 pixels)

Memory

1,000,000 readings

1,000,000 readings

1,000,000 readings

PC software

testo EasyHeat software

testo EasyHeat software

testo EasyHeat software

Instrument operation

via smart-touch display

via smart-touch display

via smart-touch display
Manufacturer Specs
*Please note, specifications below are for entire Testo 300 product range. Not all models are equipped for NOx or higher range CO measurement

Measurement parameter

Measuring range

Accuracy (±1 digit)

Resolution

O

2

measurement
0 to 21 vol.%
±0.2 vol.%
0.1 vol.%
CO measurement
(without H

2

compensation)
0 to 4,000 ppm
±20 ppm (0 to 400 ppm)
±5% of m.v. (401 to 2,000 ppm)
±10% of m.v. (2001 to 4,000 ppm)
1 ppm
CO measurement
(with H

2

compensation)
0 to 8,000 ppm
±10 ppm or ± 10% of m.v. (0 to 200 ppm)
±20 ppm or ± 5% of m.v. (201 to 2,000 ppm)
±10% of m.v. (2,001 to 8,000 ppm)
1 ppm
CO measurement (without H

2

compensation and dilution) **Special order**
0 to 15,000 ppm
±200 ppm or ± 20% of m.v.
1 ppm
CO measurement (with H

2

compensation and dilution)
0 to 30,000 ppm
±100 ppm or ± 10% of m.v
1 ppm
NO measurement
0 to 3,000 ppm
±5 ppm (0 to 100 ppm)
±5% of m.v. (101 to 2,000 ppm)
±10% of m.v. (2,001 to 3,000 ppm)
1 ppm
Efficiency testing (Eta)
0 to 120%
0.1%
Flue gas loss
0 to 99.9%
0.1%
CO

2

determination (digital calculation from O

2

)
Display range 0 to CO

2

max.
±0.2 vol.%
0.1 vol.%
Draft measurement
-10.00 to +40 InH

2

O
±0.002 InH

2

O (0 to ±0.04 InH

2

O)
±0.008 InH

2

O (±0.04 to ±1.20 InH

2

O)
±1.5% of m.v. (remaining meas.range)
0.0001 inH

2

O
Pressure measurement
-40 to 80 InH

2

O
±0.2 InH

2

O (0 to ±20.0 InH

2

O)
±1% of m.v. (±20.1 to ±40.0 InH

2

O)
±1.5% of m.v. (remaining meas. range)
0.01 InH

2

O
Temperature (instrument)
-40 to 2,192°F
±1°F (32 to 212.0°F)
±0.5% of m.v. (remaining meas. range)
0.1°F (-40 to 1831.82°F)
1°F (remaining meas. range)
Ambient CO measurement (internal/flue gas probe)
0 to 2,000 ppm
±10 ppm (0 to 100 ppm)
±10% of m.v. (101 to 2,000 ppm)
1 ppm
Ambient CO measurement (external with CO probe)
0 to 500 ppm
±3 ppm (0 to 29 ppm)
±10% of m.v. (30 to 500 ppm)
1 ppm
General technical data
Storage temperature
-4 to 122°F
Operating temperature
23 to 113°F
Charging temperature
32 to 113°F
Humidity application range
15 to 90% RH, not condensing
Power supply
Rechargeable battery, USB power supply
Rechargeable battery life
10 hrs
Protection class
IP 40
Memory
1 mio. measurement values
Display
5.0" touch display, HD 1280x720 pixels, IPS (160 k)
Weight
Approx. 1.76 lbs. (0.80 kg)
Dimensions
L: 9.60 in. (244 mm) (including probe connection) H: 2.32 in. (59 mm) W: 3.86 in. (98 mm)
testo 300 warranty
Instrument/probe/gas sensors
O2, CO sensor: 24 months
Thermocouple and rechargeable battery: 12 months
testo 300 Longlife warranty
Instrument/probe/gas sensors
O2, CO sensor: 48 months
NO sensor: 24 months
Thermocouple and rechargeable battery: 12 months
Warranty terms
https://www.testo.com/guarantee